Landscaping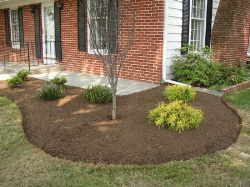 While most homes have an existing landscape of some sort, some homes, like brand new properties, do not. We will make sure you get the new landscape or changes to your existing landscape you have always wanted. Unlike a lot of contractors in the industry, during the process of landscaping we take the time to discuss drainage options around your home so you only make one investment and avoid problems later.
Along with landscaping, we offer total grounds maintenance contracts for mowing, hedge trimming, bed maintenance, turf fertilization and weed control. Unlike a lot of companies, we are MDA (Maryland Department of Agriculture) and DDA (Delaware Department of Agriculture) certified to apply products to your landscape beds as well as your lawn.
Giving us a call is the first step in getting your property looking the way you want it.
Keep your lawn beautiful with our landscape services:
Grounds Maintenance
Mowing
Weeding
Hedge Trimming
Fertilization
Pesticides
Mulching
and much more!